English
English is varied and enjoyable at Bredon Hill Academy. Students learn in a wide variety of ways; all students across all Key Stages are encouraged to engage with all aspects of English from classic literature to modern media.
We focus on three key areas in English, aiming to advance students' progress in reading, writing and speaking and listening. Students are also encouraged to develop independent study and thinking skills; reading widely is recommended. We also facilitate enrichment activities such as reading and drama to ensure every student has the opportunity to fulfil their potential.
The English Department works towards covering the National Curriculum: the aims of which are 'to promote high standards of language and literacy by equipping pupils with a strong command of the spoken and written word, and to develop their love of literature through widespread reading for enjoyment.'
KS2
In Year 6 pupils have 10 x 1 hour lessons a fortnight. In English lessons, pupils study a range of fiction and non-fiction; complete a range of extended writing tasks; develop their reading and writing skills (including grammar, spelling and punctuation) and work towards the KS2 SATs in May.
KS3
Pupils in Year 7 and 8 have 8 x 1 hour lessons every fortnight.
Throughout the year, pupils study a range of texts: Chaucer, Shakespeare, literature from other cultures, non-fiction and contemporary fiction.
Media units are also incorporated into the English curriculum.
Assessment
Throughout both key stages, pupils' skills are regularly assessed and targets are set to support and challenge them in their learning.
Reading
One of our many aims is to create a love of reading. Reading creates. It creates the world within which we live. It creates and shapes the people we are and it opens the doors to opportunities.
In the words of Dr. Seuss: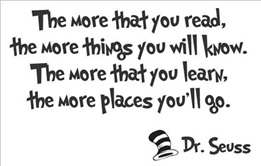 Across all year groups, pupils create and produce a Reading Journal in which they record their responses to their reading in a creative way that best expresses their ideas.
Further to this, we expect all pupils to have a reading book with them every day and we expect them to be reading at home every day. A minimum of ten minutes a day can make a huge difference to a child's reading ability and access to the whole curriculum – not only English.
Useful English Websites for Independent Study
www.bbc.co.uk/skillswise
www.bbc.co.uk/schools/ks3bitesize
www.SpellingCity.com
Suggested Reading List for Year 6 Pupils
Year 7 – Bookbuzz!
Year 7 pupils are offered the chance of a free book from www.bookbuzz.org.uk